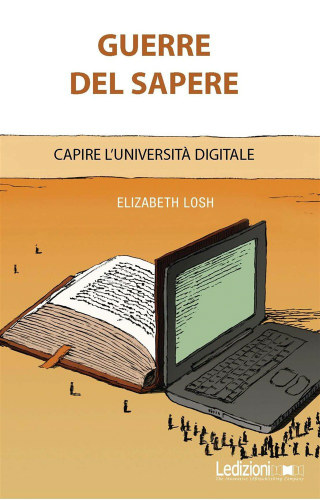 Di Elizabeth Losh
Ledizioni editore
Pubblicato: maggio 2016
Pagine: 280
ISBN: 978-88-6705-321-6
Prezzo: € 22,00
Elizabeth Losh esamina gli sforzi in corso per riformare l'istruzione superiore mediante l'applicazione di soluzioni tecnologiche ai più comuni problemi di insegnamento e apprendimento. Il volume fa emergere chiaramente i perché del fallimento di molte iniziative: trattano l'educazione come un prodotto piuttosto che come un processo.
Dai MOOC (Massive Open Online Courses) alla gamification, alle videolezioni, al remixing, passando per i sistemi di elearning, i podcast, i tablet ed altre tecnologie educative, il volume prende in considerazione le principali linee evolutive della teoria pedagogica legate al digitale, analizzandole e riportando casi di studio, che saranno di sicuro interesse per chiunque sia interessato al rapporto fra tecnologia ed apprendimento.
Elizabeth Losh, è direttrice del Culture, Art, and Technology Program presso il Sixth College alla University of California, San Diego. È autrice di diversi volumi, fra cui "Virtualpolitik: An Electronic History of Government Media-Making in a Time of War, Scandal, Disaster, Miscommunication, and Mistakes" (MIT Press) ed è coautrice di "Understanding Rhetoric: A Graphic Guide to Writing".