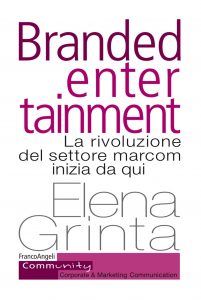 Di Elena Grinta,
Franco Angeli editore,
Data di pubblicazione: giugno 2017
ISBN: 9788891752895
Pagine: 126
Prezzo: € 17,00
Se la capacità del brand di essere visto e ascoltato è sempre più a rischio, la priorità assoluta di ogni azienda è spendere il proprio budget pubblicitario in modo efficace ed efficiente. Ciò significa rivolgersi ad approcci nuovi. Advertiser Funded Programming, web series, cortometraggi, advergaming… sono tantissime le possibili declinazioni di branded content & entertainment su cui si concentra l'analisi di questo volume.
Elena Grinta è membro del Global Council e del Research and Measurement Committee della BCMA – Branded Content Marketing Associatione ha fondato l'Osservatorio Branded Entertainment (OBE) nel 2013. Opinion leader su temi di comunicazione e autrice di numerosi articoli, tiene conferenze sul Branded Entertainment nelle università e nei Festival in Italia e in Europa. Dopo un Master alla Sorbona, ha lavorato in France Télévisions e all'Institut National de l'Audiovisuel (INA). In seguito è stata Marketing Manager a LA7 Televisioni; Head of Strategy & Market Research di MTV Mobile powered by TIM; Head of Marketing di Playmaker in MTV Italia, Senior Marketing Consultant in Viacom Advertising.